Baristas Unite: A Look Inside the Starbucks Unionization Movement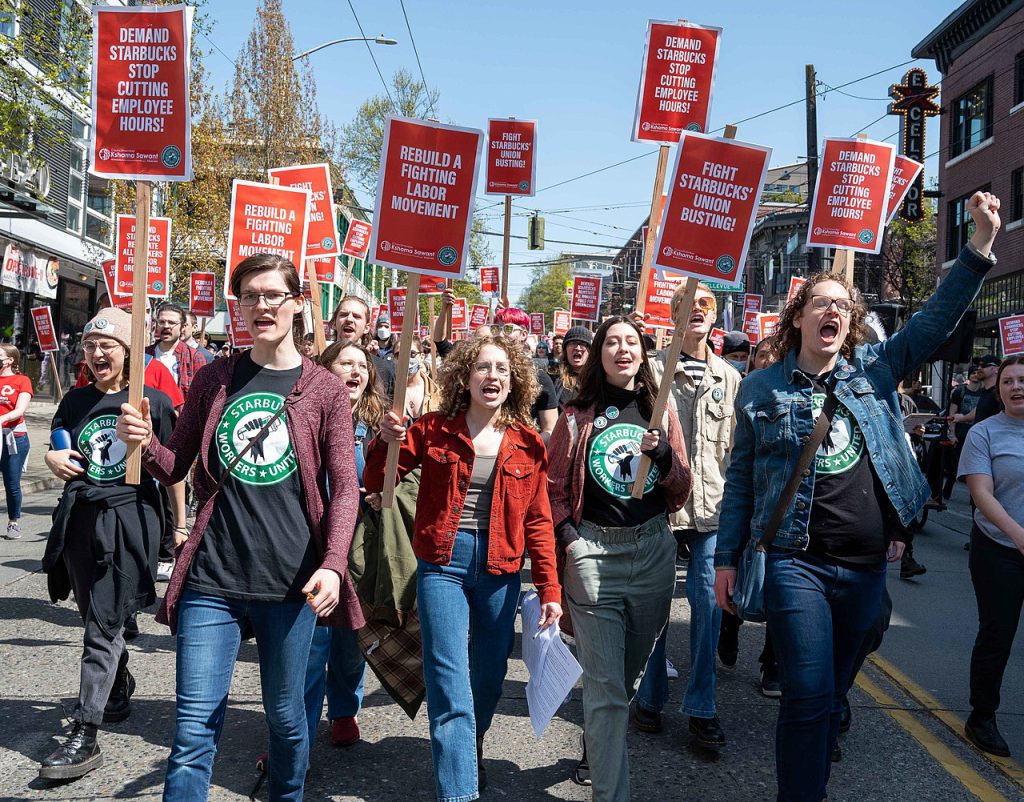 Ken Green
CEO & Founder
UnionTrack
Perhaps one of the most significant unionization movements in recent history is happening right now at Starbucks locations across the nation.
What started with a single, successful union vote at a Buffalo, New York, location in December 2021 has grown into a nationwide unionization movement. The drive has seen the successful organization of 100 sites in at least 25 states by the end of May 2022, and hundreds more locations petitioning to unionize, reports Jiwook Jung, assistant new editor at The Cornell Daily Sun.
This movement is so poignant because it is happening at a company with a reputation for being progressive and worker-friendly, and because it's happening in an industry that has not traditionally been unionized.
"It's pretty amazing that a company that large and that present in American consciousness — everybody knows what Starbucks is — is unionizing," says Ileen DeVault, professor of labor history at Cornell University.
Here's a look at the meteoric rise of the Starbucks unionization drive.
Why Starbucks Workers Started Unionizing
Starbucks has long relied on its reputation as a worker-friendly company that treats its employees as "partners" to ensure goodwill between employees and management. The relationship, however, soured during the pandemic as working conditions deteriorated.
"Starbucks fell short of the expectations and values the company had prided itself on and the conversation for unionization began amongst the workers," writes Jung.
Cleveland, Ohio-area baristas Joseph Nappi, Cara Rovella, and Kate Gammons-Nardi explain that high turnover, COVID infections, pay disparities, and a desire to hold the company accountable to its worker-friendly reputation are essential motivators for workers' efforts to unionize. "We could quit and go somewhere else," says Rovella. "We like our jobs. We're doing this because we care."
Unfortunately, the company doesn't see it that way.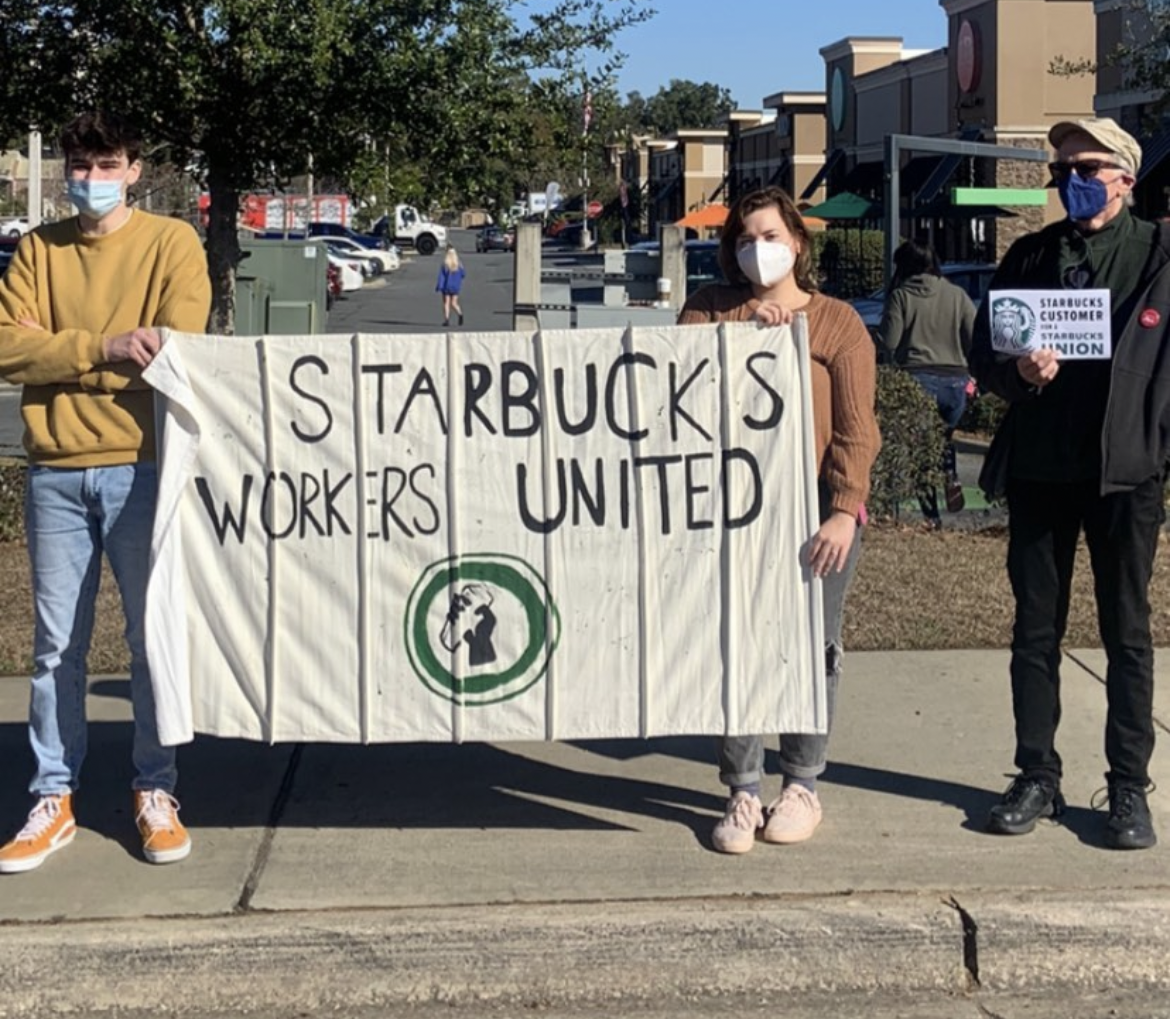 Victory in the Face of Heavy Union-busting Campaigns
Starbucks is strongly opposed to all unionization efforts and runs fierce union-busting campaigns that have resulted in "a torrent of unfair labor practice (ULP) charges against the company," notes Matt Bruenig, founder of People's Policy Project. Since January 2022, notes Bruenig, Starbucks Workers United has filed 149 ULP charges against the company.
Steven Greenhouse, senior fellow at The Century Foundation, describes some of the union-busting tactics used by the company:
Closing stores and sending employees to different locations after they signed union cards to petition for an election.
Placing out-of-town managers in local shops to essentially shut down unionization conversations.
Hosting hours-long anti-union captive audience meetings.
Giving pay raises only to nonunion workers.
Cutting hours of pro-union employees and hiring new staff.
Even in the face of such intense union-busting efforts, Starbucks workers continue to stand in solidarity with each other and stand up to the company. "It's time for Starbucks to actually treat us like partners," asserts Philadelphia-based barista Maddie Levans.
The Battle for First Contracts Begins
Starbucks is further resisting unionizing by stalling contract negotiations. U.S. labor law only requires that both sides negotiate in good faith, not that they reach an agreement, so the company has some leeway to delay. Employers use this common tactic to frustrate workers into giving up on negotiations, and it often works.
The Buffalo store is up against this now as it negotiates the first-ever Starbucks collective bargaining agreement. However, with so many successful union drives happening across the nation, the union may have some leverage to push management into a strong first contract that would benefit all workers at every location when they start negotiating.
"It's clear that this is a very worker-led organizing drive, and the workers are in extremely good communication with each other," said Rebecca Givan, an associate professor of labor studies and employment relations at Rutgers University. "So we know that the workers that are already at the bargaining table at one store are going to try to get a broad understanding of what the workers everywhere want as they establish their demands."
As organizers with Starbucks Workers United continue to help employees unionize their locations, they can use a tool like UnionTrack ENGAGE to keep supporters informed and motivated to see the unionization effort through to the end.
Images by: Elliot Stoller, Ethan B.